Hot water is one the basic necessity for you and your family, hence choosing the right kind of water heater is imperative. The first thing that you should look in a superior quality water heater is its energy efficiency, durability and maintenance. If you find a product that stands good on all these elements, then you can be sure that you have a good quality product in your hand. Talking of good quality products, one product that is competent on all grounds and is a reputed name in the industry is Rheem Water Heaters.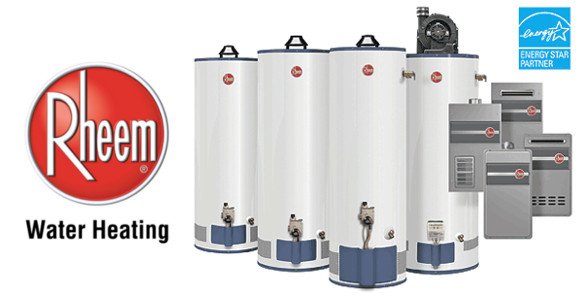 About Rheem
Rheem Manufacturing Company is one of the leading manufacturers of industrial and residential water heaters, along with heating, ventilation and air conditioners (HVAC) equipments for decades. Based in Atlanta Georgia, it is one of the leading providers of HVAC and water heaters in USA, Canada and a plethora of other countries around the globe. Though the company was established in 1925, it wasn't until 1941 that Rheem became a full-fledged manufacturer of water heating solutions. Rheem is also responsible for the production and manufacturing of the Ruud brand of water heaters, which Rheem acquired in the year 1959.
Different Water Heating Solutions on Offer from Rheem
Rheem is one of the biggest manufacturers of water heaters in the United States and have a wide variety of Tank, Tankless and Solar water heaters for residential and industrial use. Under the Tankless variety are Condensing Tankless heaters, electric Tankless heaters, Mid-efficiency and industrial heating solutions. Tank heaters are Hybrid, Gas water, Rheem electric water heaters and Marathon Thermal Tanks, while Solar powered heaters are Solaraide HE series, Solaraide Passive Solar, Solpak and Universal Solaraide.
Rheem Water Heater Price
The prices for the Rheem Tankless water heaters are in the range of $500 and up.
The Tank water heaters are $200 and up, whereas
The Solar powered heaters are $1000 and above.
Benefits of Rheem Hot Water Heaters
Investing in Rheem water heaters have a lot of benefits, some of the common benefits are as above
The biggest benefit is the fact that they are all energy efficient and help you cut on your heating bill by a big margin.
Rheem water heater troubleshooting, durability and maintenance is another reason why people prefer Rheem hot water heaters over other brands. This is evident from the innumerous customer feedbacks on websites selling their products as most customers have claimed this is be one of the most reliable brands.
All products come with an excellent warranty and are easy to install.
The price range of the product is wide so there is something on offer for everyone.
Some of the Popular Products from Rheem that are Available on Amazon
1. 

Rheem MR50245 Marathon Tall Electric Water Heater

, 50 Gallon
This Rheem electric water heater is a self cleaning build-up that comes with a limited lifetime tank warranty and available on Amazon. It can hold up to 50 gallons of water and runs on electricity. It's thermally fused upper element provides protection against dry-firing and this water heater is durable and lightweight.
[asa]B001829C1C[/asa]
2. Rheem RTE 9 Electric Tankless Water Heater, 3 GPM
This Tankless water heater is available on Amazon and is perfect value for money. It has on-unit temperature control and LED lights that indicate active and standby mode. It can provide a nonstop flow of hot water and the unit is compact hence fits anywhere.
[asa]B003UHUSJI[/asa]
3. 

Rheem RTG-64XLN 6.4 GPM Low NOx Outdoor Tankless Natural Gas Water heater
This natural gas water heater is available on Amazon and can produce 6.4 gallons a minute of hot water. It belongs to the High Efficiency Series and works perfectly in as high as 10,000 feet above mean sea level.
[asa]B007XDK1R4[/asa]
http://www.bestwaterheaterreviews.org is a participant in the Amazon Services LLC Associates Program, an affiliate advertising program designed to provide a means for sites to earn advertising fees by advertising and linking to Amazon.com.
Rheem Water Heater Reviews
Most customers have pleasant things to say about Rheem hot water heaters as they are easy to install, energy efficient and durable, however, some people complained about their unit come with dents. Apart from that most users were pretty happy with the product and said would happily recommend the product to others.
[WPCR_INSERT]
Points to Remember Before Buying
Overall Rheem is a trusted name and a durable product, however, before buying the product understand your heating needs and find the heater that best suits your needs. Check that the product you buy is compatible with the water flow or else you will not get the desired outcome. Last but not the least, consider the clearance between the heaters and the appliance and ensure your home is well equipped for the same.
Make sure you place your order from a trusted vendor and look out for other things like delivery charges, vendor fees (shouldn't be charged), discounts, Rheem water heater warranty and shipping. A few people complained about a dented product after delivery so look out for the any dents or scratches right after delivery of your Rheem water heater.
Verdict
All in all Rheem water heaters are a good buy, especially since there have a wide variety of products on offer that cater to different needs and budgets. If you are looking for a trusted name in water heaters and want high quality, energy efficient and durable heaters; Rheem Heating solutions is your go to brand.