With over 350 subsidiaries across 60 different countries, Bosch is one of the world's most reputable multinational engineering companies. In terms of household appliances, the Bosch water heaters are renowned and used all around the world.
Its headquarters are located in Germany, and it was founded at the end of the 19th century in Stuttgart, by Robert Bosch. Bosch offers a wealth of automotive components and core products, from brakes, electrical drives, electronics and steering systems to packaging technology, power tools and household appliances.  In this review you will find a deeper insight into the different types of Bosch water heaters, as well as their main features and benefits.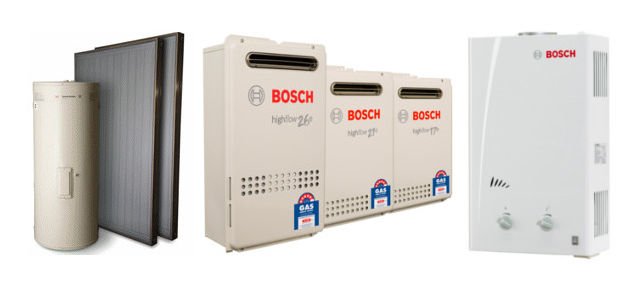 Different Types Of Water Heaters Offered By Bosch
Bosch offers a wide array of water heating systems designed for different buildings. The end purpose of these systems is to provide cozy, warm water in an economical manner and with a minimum environmental impact. In a nutshell, there are two main types of Bosch water heaters:
1. The Gas-Based Heaters
These are the most versatile types of Bosch water heaters, as they can match homes of any size – they are suitable for both multi-family buildings and for single-floor apartments, and they can offer efficient water heating for spaces of up to ten thousand square meters.
These heating systems are tailored made to meet your needs and they are based on eco-friendly technology that is designed to reduce the carbon footprint and to minimize the gas consumption as well, thus lowering your energy and gas bills. This type of Bosch hot water heater is cost-effective, as it can be purchased for $350-$520, depending on the model and on where you purchase it from.
2. The Tankless Water Heaters
The second type is the tankless water heater, which relies on the principle of economic flow heating, meaning that cold water is heated as it passes through the boiler. Given the fact that the boiler is designed to operate only when you need hot water, this will dramatically reduce the energy consumption. The electric tankless water heater costs between $600-$700, depending on the model and its features.
In addition to the above-mentioned Bosch water heaters, you can also opt for heating control devices that are cost-effective, convenient and easy to use – these are basically thermostatic radiator valves and weather-dependent controls that aim to deliver economic heating regulation and to reduce the heating costs even more.
Benefits Of The Bosch Hot Water Heaters
These water heaters are highly efficient and tailored to meet the needs of your family, and this is undoubtedly one of the most notable benefits. They are easy to customize, they save both energy and space and they are cheap to operate over the years. Moreover, if you are environmentally conscious then you should know that Bosch water heaters are designed to offer economical comfort, without environmental strain.
Other notable benefits associated with these water heaters include:
Hot water provided on a constant basis, so you can be sure that you will never run out of it;
Reduced operating costs in the long term, as Bosch water heaters are amongst the most energy efficient products of their kind available on the market;
Increased durability – these heaters are made from strong and durable materials, and they are designed to last at least two decades;
Compact, light weight and easy to handle and install –  Bosch water heaters are small and compact, therefore they can be easily hanged on the wall.
Overview Of The Top 3 Most Popular Bosch Water Heaters On Amazon
1. The Bosch Ariston Mini-Tank Water Heater
This is an electric mini water heater designed for indoor use, and it can be purchased for a very reasonable price. This point-of-use, four gallon water heater is perfect for sinks, as it delivers instantly hot water and it does not involve any hard wiring – all you need to do is to plug it and use it. It weighs no more than 17 pounds and it comes with a 1-year limited warranty for the parts. Customers claim that it is extremely convenient and easy to use, especially by those with little to no experience in the technical/electrical field.
[asa]B0006GVO12[/asa]
2. Bosch Term 520 PN LP
This is a gas-based water heater that is designed to ensure constant water temperature regardless of the flow rate. The heater has a push-button ignition system, a capacity of 5.3 gallons per minute and it can deliver hot water for two different applications simultaneously. It involves no electrical connection whatsoever, and this tankless heater is suitable for smaller families. Also, customers say that the high thermal efficiency (over 78%) helps them save money in the long haul, as the boiler only heats water when needed.
[asa]B0065PKERS[/asa]
3. Bosch Power Star Tank less Electric Heater
Last, but not least, the Powerstar  and it features easy installation and a 99% efficiency. It can be easily mounted on the wall and it operates on 220-volts. This is a point-of-use, indoor water heater that is perfect for kitchens, bathrooms as well as hand-washing sinks.
[asa]B0006VOR3O[/asa]
http://www.bestwaterheaterreviews.org is a participant in the Amazon Services LLC Associates Program, an affiliate advertising program designed to provide a means for sites to earn advertising fees by advertising and linking to Amazon.com.
Where To Buy These Water Heaters?
If you have decided that the Bosch water heaters are what you need, then you should know that Amazon, EBay and other online marketplaces sell these heaters at affordable prices, and they also offer free shipping and discounts. You can opt for refurbished products as well (which are usually 10%-15% cheaper than the original pieces) and you can even use discount codes/coupon codes you can find online, to reduce the price of the heater by 30% or even more.
The Bottom Line
To sum it up, Bosch offers a wide array of water heaters – they come in different shapes and sizes, they are easy to handle and install and they are designed to protect the surrounding environment by lowering the energy and water consumption. These heaters are cost-effective solutions for improving the comfort of your home.