Hot water plays very many roles in homes. In response to this, innovators from all across the globe worked hard and created tank water heaters that could heat up water using electricity or gas. Later on, technological advancements led to the development of water heaters that do not require a tank. Since then, tankless water heaters have earned global recognition as evident from the huge number of homeowners that prefer using them instead of conventional models.
Here are tankless water heater pros cons that you should be aware of when shopping for these all-important home appliance.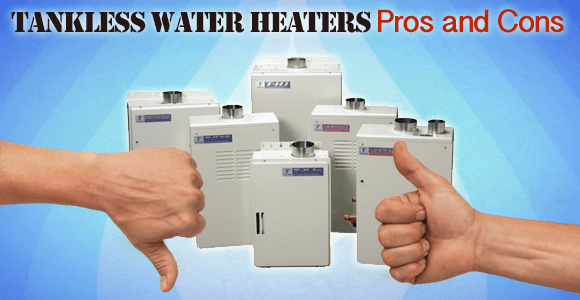 Tankless Water Heater Pros And Cons
Watch this video discussing the difference between tankless water heaters and traditional water heaters.

Pros
Durability:
On average, tank water heaters usually last between 10 and 13 years. This is due to the fact that its tank is susceptible to rusting and other detrimental aspects such as accumulation of minerals which aggravate corrosion. On the other hand, tankless water heaters can last twice as long or longer depending on the model and the quality of the materials used by the manufacturer.
Saves Space:
Traditional water heaters with gallon capacity of between 40 and 60 are usually 14 inches wide and 60 inches tall due to the enormous size of their storage tank. This means that they occupy lots of space in the house unnecessarily. Luckily tankless heaters have a compact design which makes them ideal for homes with limited space. On average, most models are 28 inches tall, 20 inches wide and 10 inches deep. As you can see, this is a mere fraction of tank water heaters. Installing such a heater will save you ample space that you can use to install or store other home accessories conveniently.
Cost Effective:
Well, tankless water heaters are more expensive than the traditional models. However, the price should not deter you from purchasing them as the long-term benefits surpass the initial cost by far. More importantly, they will add the resale value of your home if you decide to sell it in future.
Ability to Heat Unlimited Amounts of Water
Traditional heaters could only heat a given amount of water at a go due to the limited tank space. For example, a heater with a 20 liters tank can only provide the same amount of water at a time. On the contrary, tankless heaters can supply unlimited amounts of water as long as there is power or gas. For electric heaters, it's recommendable to invest in a solar panel as a backup during a power outage. You might even want to research about solar powered water heaters.
Cons
Expensive
If you decide to purchase these modern heaters, you will have to part with almost $1000. Now, despite the fact that long-term benefits surpass this initial cost, most people cannot be able to purchase it outright. In fact, some may be forced to seek financial support from banks and other institutions.
Usability Issues
Homeowners who have no prior experience may experience some problems during the initial stages resulting to wastage of electricity and water. Also, the hot water output is usually split or shared among various household fixtures. Meaning that some of them may at times receive inadequate amounts of water especially in the morning and evening when family members are using kitchen and bathrooms.
High Electricity and Gas Usage
Electric models heavily dependent on the constant supply of electricity and so you might be forced to set up an additional circuit. You might also have to install a large natural gas supply if you go for the gas tankless water heater. However, this is not a major issue that should deter you from purchasing them as modern models are very efficient and user-friendly.
Here is a brief review of one top rated gas tankless water heater available on Amazon.com.
Rheem RTG-64XLN 6.4 GPM Gas Heater
This is a third generation natural gas tankless water heater that has the capacity of producing up to 6.4 gallons of hot water per minute at a 35 degree Celsius rise. It's efficient, economical on space and quite easy to operate as it comes with a UMC-117 remote control. By investing in this modern heater, you will enjoy a continuous supply of hot water at all times.
[asa]B007XDK1R4[/asa]
Verdict
Tankless water heaters are indeed more efficient and reliable than tank water heaters.
Bonus Tip: Take time to compare and contrast electric and gas tankless water heater pros cons to make an informed decision. While you are there, look at the specific features before placing your order.