Is your water heater having problems? Well, if it is, you need to have it repaired or install a new one. Water heater installation cost varies from type to type but if you do proper research, the cost will not be too much for you. Water heaters play an important role in our homes. They supply us with warm water for all our warm water needs such as cooking and bathing. A cold shower especially during winter is never welcome but if your water heater system breaks down, you may be forced to endure one.
If you are moving into a new home without a water heating system, then installing a new water heater is one of the first tasks you have to carry out. But how much should water heater installation cost you?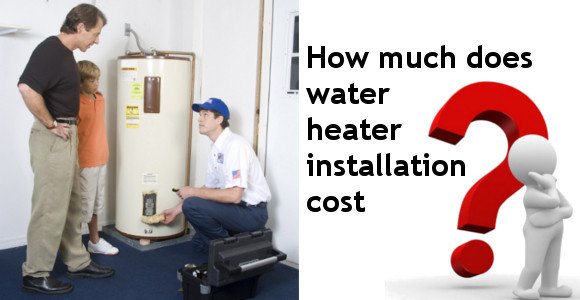 Today, most companies are charging anywhere between $700 and $2000. This cost will vary depending on the choices you make. While it is good to be economical, you also need to consider the quality of the water heater you are going to supply. You must also bear in mind the fact that on average, water heaters have a lifespan of 12 years and therefore this is a cost you will have to bear roughly once every decade.
Water heater installation cost will largely depend on whether you are going for an electric heater or a natural gas heater. It will also depend on whether you will choose an energy-efficient tankless unit or the conventional units. For instance, a 50-gallon natural gas water heater costs anything between $900 and $1700 to install depending on the site and other factors. The cost is unique for any given project.
Should You Hire a Professional?
For best results, you should hire a professional to install the water heater, unless you are a DIY expert. Going for a professional means you will get a licensed individual who will install the water heater correctly. A professional will also make sure that all the safety requirements are met and that it is installed according to the latest local plumbing code.
The installation process is a dangerous one and there is no need to risk your life and that of your family members if you don't know how to go about it. This is because of obvious reasons. If it is an electric heater, you will be dealing with high voltage and if it is a gas heater, any leakage can be catastrophic. Additionally, sometimes the seller will give a warrant and send their technicians to install it and in case it develops problems later on, repair costs will be covered by the manufacturer if it was installed by a licensed professional.
Nowadays, many people are choosing energy-efficient water heaters. These are economical as they consume less energy thereby lowering your energy bill. The downside is that water heater installation cost for energy-efficient tankless heaters is higher than the cost of the conventional heater units. However, in the long run, they turn out to be much heater because of the savings you will be making on energy bills. If you are thinking of installing a new water heater, consider your options and choose the heater that best suits you. When it comes to installation, be sure to hire a professional to do it for you.