Eccotemp is one of the leading innovators in the water heater business, not just in North America, but also the world. A big contributor to this success is Mike Elrod, who conceptualized a smaller and less expensive version of the large tankless units.
If you are in the market for an inexpensive yet worthwhile water heater, but are still unsure what to get, then let us be your guide. We will give you a concise and narrowed down list of what Eccotemp has to offer, and in the following categories: gas, electric, and portable.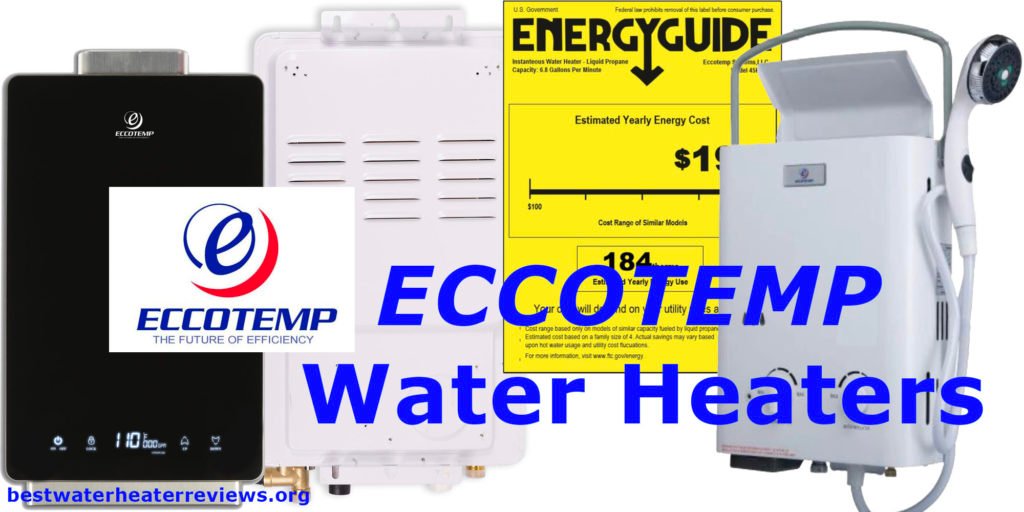 Best Eccotemp Gas Tankless Water Heaters
Please note that all products mentioned below are listed in no particular order.
Eccotemp 45HI-NG Tankless Water Heater
If you have a standard family-sized home (i.e. with two bathrooms), then this 6.8 GMP, natural gas-powered tankless heater will more than suffice. With its 140,000 BTU, the 45HI-NG can even supply a small commercial establishment.
Control system is fully automated, and is compatible with a remote control. For the temperature levels, this machine is capable of a 5 °F increase at its max 6.8 GPM, 50 °F at 5.0 GPM, and 70 °F at 3.4 GPM.
[asa]B00K2XLJ82[/asa]
Eccotemp i12-LP Indoor Tankless Water Heater
This unit is one of the company's more futuristic-looking models. Part of what makes it look so unique is the sleek black gorilla casing that it wears. Furthermore, it features a precise automatic temperature control, which is perfect if you want to leave most of the work up to the machine.
The output temperature is also indicated on an LCD temperature display, along with the GPM flow rate, offering great visibility. Speaking of flow rate, this model is rated at 3 GPM, which is suitable for small to medium hot water production, and used by more than one outlet, simultaneously.
When functioning at a 3 GPM rate, this device provides a 35-40 temperature rise in °F, whereas at 1.5 GPM, temperature can go as high as 77 °F. The product is also bundled with a ready-to-install vent kit, along with a 120-V, UL-approved power cord to run the internal exhaust fan and digital monitor. Plus, with only 1.07 amp of operation energy cost, and 2 watts during idle, your bill can breathe easy.
[asa]B0157EJT28[/asa]
Best Eccotemp Electric Tankless Water Heaters
Eccotemp iE-11 Electric Tankless Water Heater
This particular model can deliver hot water at a steady temperature between 86-140 °F. You can set your preferred degrees via the user-friendly front panel. Moreover, with a 1.8 GPM rating, it is still viable for 1-2 separate output use, which is typically for a small accommodation with a single shower, washer, and sink.
Unfortunately, the iE-11 is only able to achieve the abovementioned optimal setup in areas with an average climate of 65 °F, or higher. Anything lower will likely leave you using only 1 outlet of warm water. Nonetheless, if you consider its cheap price, 96% water saving efficiency, and 60% less electricity consumption than traditional tankless units, it is not hard to see the iE-11's real appeal.
[asa]B01MS02J0Q[/asa]
Eccotemp iE-24 Electric Tankless Water Heater
Looking for a steady supply of warm water for a standard apartment, family house, or townhouse? The Eccotemp's latest iE-24 electric water heater is more than qualified to meet such needs. With a 40 °F temperature rise at its max 3 GPM flow rate, the device can deliver perfectly-heated fluid to 3 outlets, all together.
Aside from its safe multi-layer heat exchange, the iE-24 operates with a maximum 100-amp draw at a 240-V electric service requirement. Pair these with a sleek and accessible design, and you get an electric heater that is not only energy efficient, but also easy to handle. Lastly, the item is corrosion resistant, and is less prone to scalding, thanks to its advanced temperature regulation.
[asa]B01M69KVIF[/asa]
Portable Eccotemp Tankless Water Heater
Eccotemp L5 Portable Tankless Water Heater
From campsites, to barns, or the outdoors in general, this portable water heater is the perfect companion. This model is compatible with two D-cell batteries, so you can practically take it just about anywhere, granted there is a proper water line and a liquid propane gas source.
Despite its portable setup, it can still attain a 30-35 °F temperature rise at 1.5 GPM. A propane tank CSA regulator, a garden hose adapter, and a shower head, are all bundled with the main product, for your utmost expedience.
[asa]B000TXOJQ4[/asa]
Hopefully, you can make full use of all the given information above. There is more to the Eccotemp water heater catalogue, but each unit enumerated here will more than meet your standards, specific to certain needs.
Gas vs Electric Water Heaters
There is really no wrong choice between the two types. However, you must consider your home setup and personal necessities carefully. Once you have your needs all laid out, it will be easier for you to factor in the pros and cons of both machines.
Generally, tankless gas water heaters are more expensive, particularly popular water heater brands. Fortunately for you, there is not much disparity between the prices of Eccotemp's water heaters under both classes.
When it comes to installation, the electric water heater system is much simpler to setup, as long as your electric service is compatible. The gas-powered unit on the other hand, requires a more intricate setting, such as proper ventilation, matching gas line size, and adequate fresh air supply. Do not worry though, since Eccotemp assures easy installation of all their appliances.
Operating cost of both sorts will mostly depend on the current and future fluctuations of electric and natural gas demands. But, according to previous and present user and industrial trends, the electric units seem to operate more stable, and is projected to inflate much slower in rate.
As expected, gas water heaters emit more greenhouse gases, whereas its counterpart barely produces any, if not none. In terms of maintenance, the electric kind typically does not require any, but should still be checked every now and then. The gas type, however, needs annual upkeep to maintain optimal function.
Besides the gas and electric heaters for your home, there are also the portable heater systems for use in your RV, camper van or small vacation home.