Bradford White is a leader in top quality water heater technology, and offers products that are affiliated with the Energy Star organization, meaning that they offer many energy saving benefits. Looking at the Bradford White water heaters reviews, you will see that this is a well respected and reputable company that has been around for many years. In addition, these water heaters are manufactured to the highest of standards so that you will always get the best quality and durability. So much so, that contractors always choose Bradford White as their top brand! Let's have a look at why Bradford White is the leading water heater brand.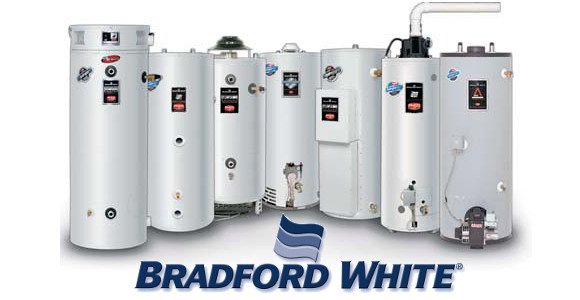 The Popularity of Bradford White
Bradford White was established in 1881 and has grown from strength to strength over the years to become the leading water heater manufacturer. With state of the art technological advancements, and a high class research and development facility, Bradford White have become an innovative leader in the commercial, residential and industrial wholesale water heater, space heating, and water storage, and combination heating industry. Headquartered in Philadelphia and operating out of Michigan, Bradford White believes in manufacturing only the highest quality products that are professional and safe.
Water Heater Options and Types
For residential and commercial use, Bradford White offers a variety of propane and natural gas water heaters that are appropriate for just about any use. Electric water heaters and tankless water heaters are also commonly used nowadays, as are indirect water heaters. Oil combination water heaters are also offered in the residential market. Keeping in line with the company's innovative attitude and commitment to quality, Bradford White also offer solar powered water heaters, which will save a lot of money in the long run. These are manufactured under their EcoStor trademark which delivers various closed loop or open loop models.
Each type of water heater offers numerous options with regards to size and capacity, with upright, utility and lowboy models being the most common. Wall hung models are great for those small, tight spaces, where you have limited installation options. The compact models which can be used in locations that are low in demand or that are a far distance away from the main water heater. You can also choose from power vent, atmospheric vent, direct vent, and high efficiency water heaters.
Starting from around $485 for the 40 gallon water heaters, the various types in varying capacities can cost up to just over $2500 for 65 to 100 gallons.
Benefits of Bradford White Water Heaters
For contractors there are numerous benefits of using the renowned Bradford White for all their water heating supplies. This includes:
Bradford White utilizes exceptional technology that makes their designs unique and durable.
Many contractors comment on the energy saving benefits of Bradford White water heaters, thanks to the built in glass lining and other solar capabilities.
According to various Bradford White waters heater reviews, their products will last for many years when correctly installed by a plumber. This is also due to the quality manufacturing, specifically the magnesium anode rod which prevents corrosion in the tanks.
The safety standards of Bradford White water heaters are of the highest in the industry, and studies have confirmed that they emit 75% less NOx emissions than other water heaters in the same class thanks to their Eco-Defender safety system.
Safety benefits also include the FVIR (Flammable Vapor Ignition Resistance) technology.
Contractors like the fact that Bradford White water heaters offers additional hot water recovery and more effective rate of water heating as opposed to traditional water heaters.
Popular Bradford White Products on Amazon
1. Bradford White M240S6DS-1NCWW – Short Model
This Bradford White offers its specialized Vitraglas lining, combined with its HyrdoJet Total Performance System, as well as non CFC foam insulation and other excellent features.
[asa]B001SQ1YV4[/asa]
2. 

Bradford White MI75S6BN-337 75 Gallon Natural Gas Water Heater
This large capacity water heater offers direct heat transfer with its immersed elements Vitraglass lining. It has extra insulation to provide the most effective heating possible.
[asa]B003MBBE9A[/asa]
3. Bradford White MI40T6FBN-394 Natural Gas Water Heater
This small capacity water heater offers various high quality features including the ScreenLok technology, Hydrojet Total performance system, and more. There is a temperature and pressure relief valve as well as factory installed dielectric waterway fittings.
[asa]B004E23SNQ[/asa]
http://www.bestwaterheaterreviews.org is a participant in the Amazon Services LLC Associates Program, an affiliate advertising program designed to provide a means for sites to earn advertising fees by advertising and linking to Amazon.com.
Customer Reviews
According to most Bradford White water heaters reviews, their products offer durability and energy saving benefits that most consumers appreciate. Although some feel that pricing might be a little high initially, the saving that you receive in the long run is worth it. Here are what some consumers have had to say about Bradford White water heating products.
[WPCR_INSERT]
Things to Know Before Buying a Bradford White
When you want to install a Bradford White water heater in your home or for commercial use, you must always be sure to use a qualified installation expert who understands and has experience with Bradford White, otherwise there could be installation problems and issues with the incorrect functioning of the units.
Another thing to ensure is that you get a product that suits your requirements, as there are a large range of products to choose from. A professional installer will help you to select the correct Bradford white water heater.
Also, ensure that you receive the correct guarantee and warrantee which is usually 6 to 8 years.
Verdict
The final thoughts about Bradford White water heaters, is that they offer the best form of energy savings available today among all the water heater brands. Water heaters are the second highest consumer of energy, and by using a Bradford White, you can cut these costs dramatically. Additionally, you are receiving a product that is strong, well made, and recommended by hundreds of top contractors.